Announcements
Accepting Apprentice Applications for 2023
DIA Design Guild is accepting applications for the 2023 apprentice cohort that starts in late March and lasts about 9 months.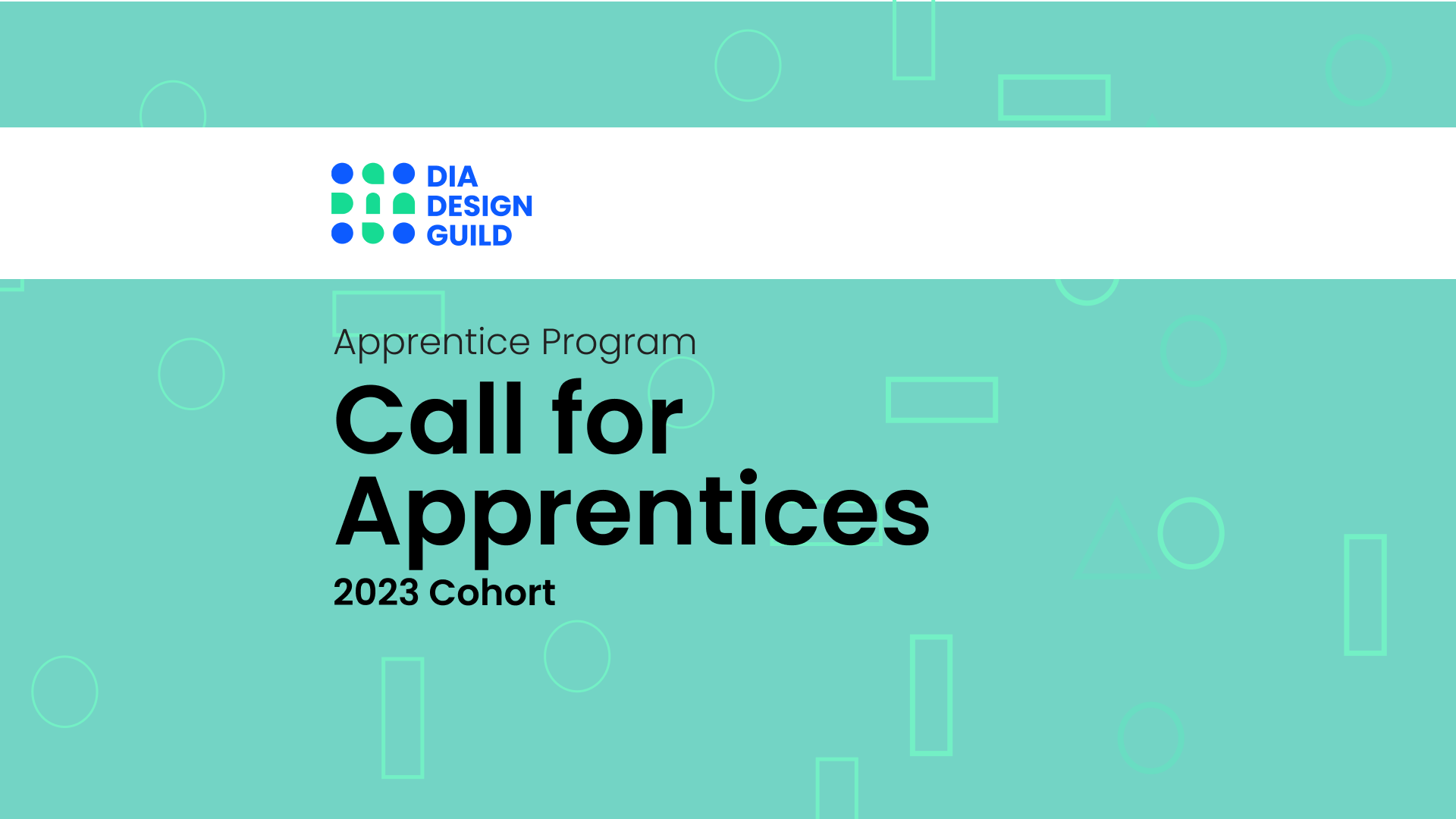 It's another year! How did that happen? The end of the year brings up fond memories of this time last year (2021) when Grace and Jessi were chatting and thought, "Let's plan an apprentice cohort for 2022." And, BOOM! Weeks later, they were hosting an apprentice orientation and welcoming 10 pairs of sparkly eyes.
So, let's get down to it. DIA Design Guild is preparing for the 2023 cohort of the apprentice program. The apprentice program will start later in March and last 9 months. As always, the program is free, funded by goodwill and compassion for supporting the new generation of people aimed to work in tech, experience, UX, and related disciplines.
Who should apply?
We said this before and we'll say it again. The apprentice program is catered towards those who haven't made it - haven't found their way, need help understanding.
If you've gone through grad school or bootcamp BUT don't have a supportive network of mentors and connections to introduce you to your next UX gig, come this way.
If you're a first-generation college student, born of immigrant parents, or identify as being the first in your family to navigate the complexities of being in the tech field, our door is open.
If you feel like an outlier, a misfit, like you don't fit anywhere, or not interested in a traditional path, we are here for you.
🤗
DIA is really about helping those who have been or feel "invisible", unsupported, underrepresented, burnt out, finding purpose, want to feel safe to experiment, and try new things.
New for 2023
The 2023 cohort welcomes a few new mentors to lead the group. We're bringing in some new expertise to bring a more well-rounded perspective to our supportive community. And of course, we have a crop of apprentices from previous cohorts to have as accountability buddies.
This year, we're accepting somewhere between 5 to 8 apprentices. The final number of slots is dependent on how many mentors we eventually have on board and what they determine to be a healthy balance of apprentices they can take on.
Apply by January 12, 2023 December 31 by 11:59PM PST.
You'll hear if you're selected for interviews by Thurs, Jan 19
Last of the interviews scheduled by Thurs, Feb 2
Mentor-apprentice matching: Thurs, Feb 9
Apprentice orientation kicks off: around Feb 21
Apply for the apprentice program
A Structured 2023 Apprentice Program
This is a 9-month cohort, where you review user experience foundations. There's no curriculum, maybe some short presentations along the way related to projects you're working on. It's 9 months, asynchronous most of the time, with live office hours every other week.
It is completely free - no debt, no income share agreement, no monthly subscriptions. All interactions, both learning and working, are done remotely.
The apprentice program is focused on developing your mindset, critical thinking skills, and use cases for working in the UX field. You won't be learning about how to use Figma per se; tools come and go. Building hard and soft skills for long-term success is the focus here. You should have some foundational understanding of what user experience is and how it could be applied in various contexts.
What will you get?
Over the course of your apprenticeship, you'll learn/refresh your understanding and process for documentation, project management, content and design deliverables, whether your focus is on content, design, research, or other tenet in the UX field.
Networking with other apprentices
Individual and group projects
30-min meeting every week or every other week with a mentor
Informational workshops, projects, mixers, etc.
Be paired with a past apprentice or cohort buddy
Most importantly, everyone is expected to pay it forward and help support one another.
How will it work?
We'll meet live for 1.5 hours once a month.
Office hours is available every Friday
Group meetings will be held and recorded over Google Meet
Exercises will be on Figma/Miro/Google Docs, as applicable
You'll have access to the private DIA Design Guild community on Discord
Supplemental readings and assignments available between sessions.
When will we meet?
We'll meet over 9 months, from March to December. These are live sessions for about 1.5 hours. Two sessions are available; if you aren't able to make one, you can join the other.
| Topic | Date | Session A | Session B |
| --- | --- | --- | --- |
| Program Kickoff & Orientation | 21 February | 10am PT | 4pm PT |
| UX Landscape | 7 March | 10am PT | 4pm PT |
| Skills Mapping | 4 April | 10am PT | 4pm PT |
| Career Pathways | 2 May | 10am PT | 4pm PT |
| Goals of Good UX | 6 June | 10am PT | 4pm PT |
| Summer Break | July | No Session | No Session |
| How Do You Evaluate UX? | 1 August | 10am PT | 4pm PT |
| Influencing UX Practices across the Organization | 5 September | 10am PT | 4pm PT |
| Portfolio/Resume Best Practices | 3 October | 10am PT | 4pm PT |
| Portfolio Critique | 7 November | 10am PT | 4pm PT |
| Program Retrospective / Graduation | 5 December | 10am PT | 4pm PT |
Note: