Pulling back the curtain on the apprentice selection process
We've been getting a lot of applications for the DIA Design Guild's Apprentice Program and we want to be transparent about how we're reviewing the applications.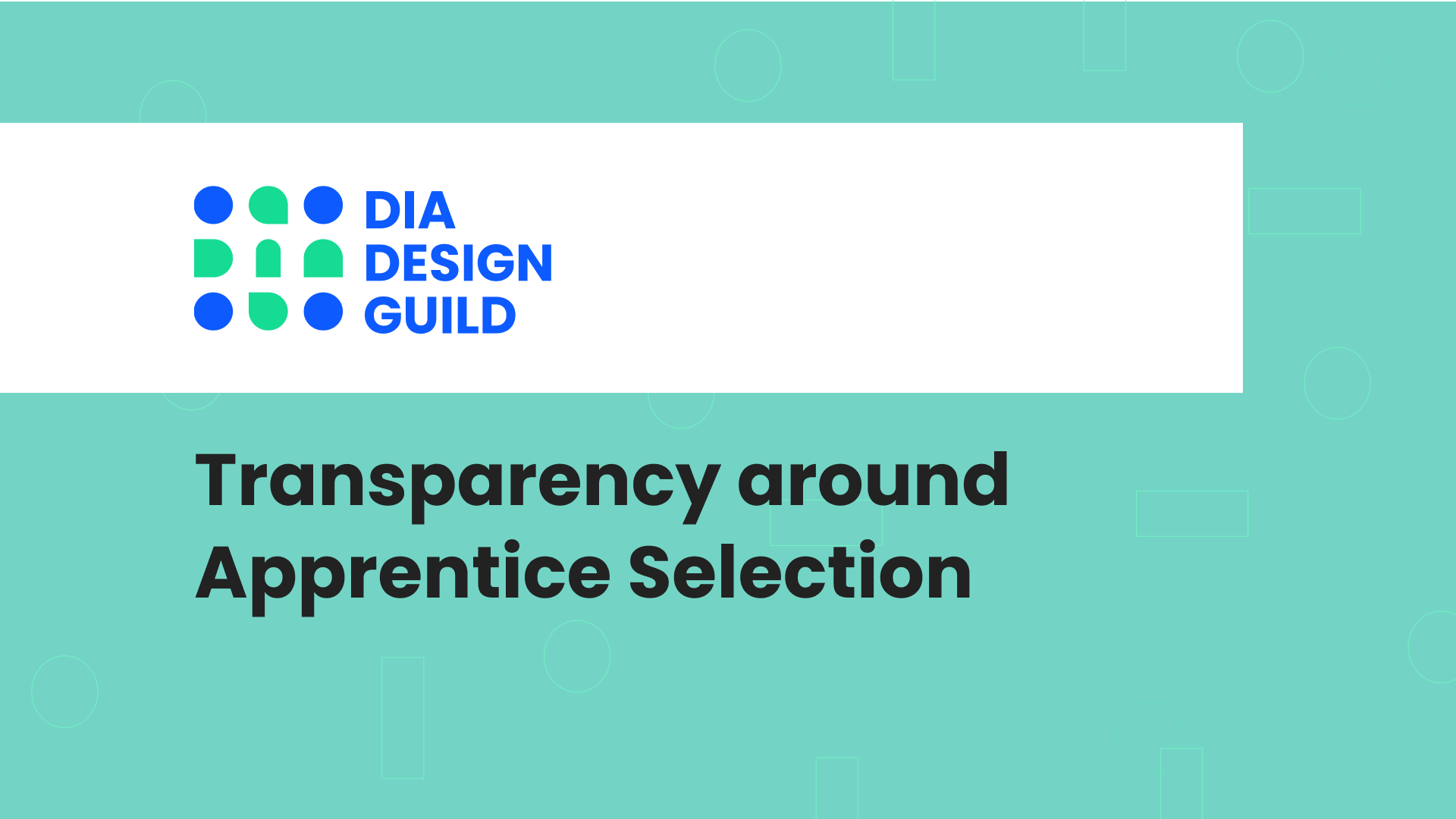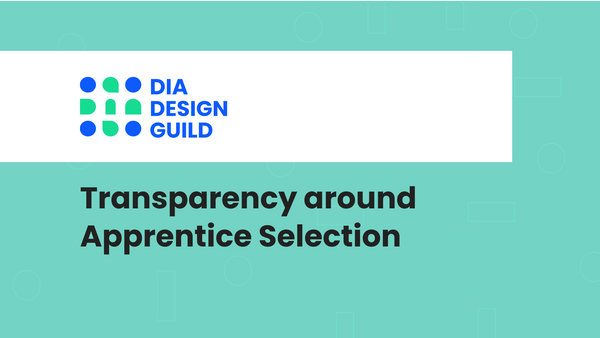 Hello, world! We've been getting a lot of applications for the DIA Design Guild's Apprentice Program and we want to be transparent about how we're reviewing the applications.
At the same time, we want to call out that we're not a funded company; there's no DEI, affirmative action requiring a quota for diversity and equity. This is just how the vibe is here at DIA Design Guild and part of our origin story (which we haven't articulated yet).
This apprentice program initially started on a whim and it has gathered some momentum. We are so excited to create a space for new apprentices.
So, let's talk about the apprentices and the selection process.
Who applies to the apprentice program?
The people who tend to apply range from "being total beginners to UX" to "having experience in adjacent fields and looking to make a transition". It tends to attract:
women
people of color
underrepresented
career switchers
recent graduates
former-life librarians/archivists,
developers
... and people looking for a place to find self and refuge in an information-loaded space.
Some people have been inspired by the cultural diversity of the people who have joined as apprentices. There's a distinct immigrant culture that we bring: motivation, perseverance, and grit -- regardless of our generation.
At the same time, maybe we appeal to people because we talk about community and identity and providing a safe space for people to try and practice new skills. Being a scrappy bunch allows us to bring new ways of thinking to the industry and that's something DIA supports: Learning to take risks and learning to fail.
How are apprentices selected?
When we're looking at the apprentice applications, we try to look at them objectively and score the applications based on qualities that we think align with DIA's community and vibe.
Does the applicant talk about why they're looking for a mentor, community?
Does this person show or demonstrate that they're able to learn on their own and are resourceful and curious?
Does this person show some alignment with paying it forward, helping others, giving back, learning and teaching in groups, and looking for a supportive community?
Apprentices don't necessarily have to have gone through a formal training or curriculum in UX. It definitely helps if they're in some kind of related field or have a college education, but it's not necessary.
"Regardless of background, we want to see that applicants have applied critical thinking and communication skills to real-world situations. Without these core components, success in the industry could be difficult."
We give 1 point for "parachutes" aka referrals from interested mentors or current apprentices. However, just knowing someone doesn't give applicants a welcoming, red carpet or green lights all the way.
We also give or take away points for "gut reactions" to an application. Maybe they're overqualified, overrepresented or already have a community or support network to help them succeed. These are some examples of folks who don't need DIA's help.
As we've mentioned in our call for apprentices:
DIA is really about helping those who have been or feel "invisible", unsupported, underrepresented, burnt out, finding purpose, want to feel safe to experiment and try new things.
At the end of this scoring process, we spend time looking at every application and consider what help and support we can provide.
Does it sound like we'd be a good fit for the applicant?
Could we provide what they're looking for?
Could we envision a year together?
As you can see, we take questions regarding our commitment and capacity for apprentices very seriously. We hope that potential apprentices take this program just as seriously as we do.
What happens if an applicant isn't selected?
Due to time, energy, need for sleep, life/work balances, family, and mental wellness, we can only take so many apprentices. As much as we'd love to accept everyone who applies, we have to acknowledge that there are limits to our pragmatic altruism.
For those who aren't selected, we arm them with invites to our free SGVUX events and referrals to other apprenticeships, learning collectives, and career coaches.
So that's it for now. Thanks for reading! Meanwhile, if you appreciate our work and effort, ...