IAC - First Timer Experience
Two DIA apprentices, Justin Kim and May Ng, experienced their very first IAC this year and gave their hot-take on what it was like being a first-timer at an established tradition and community.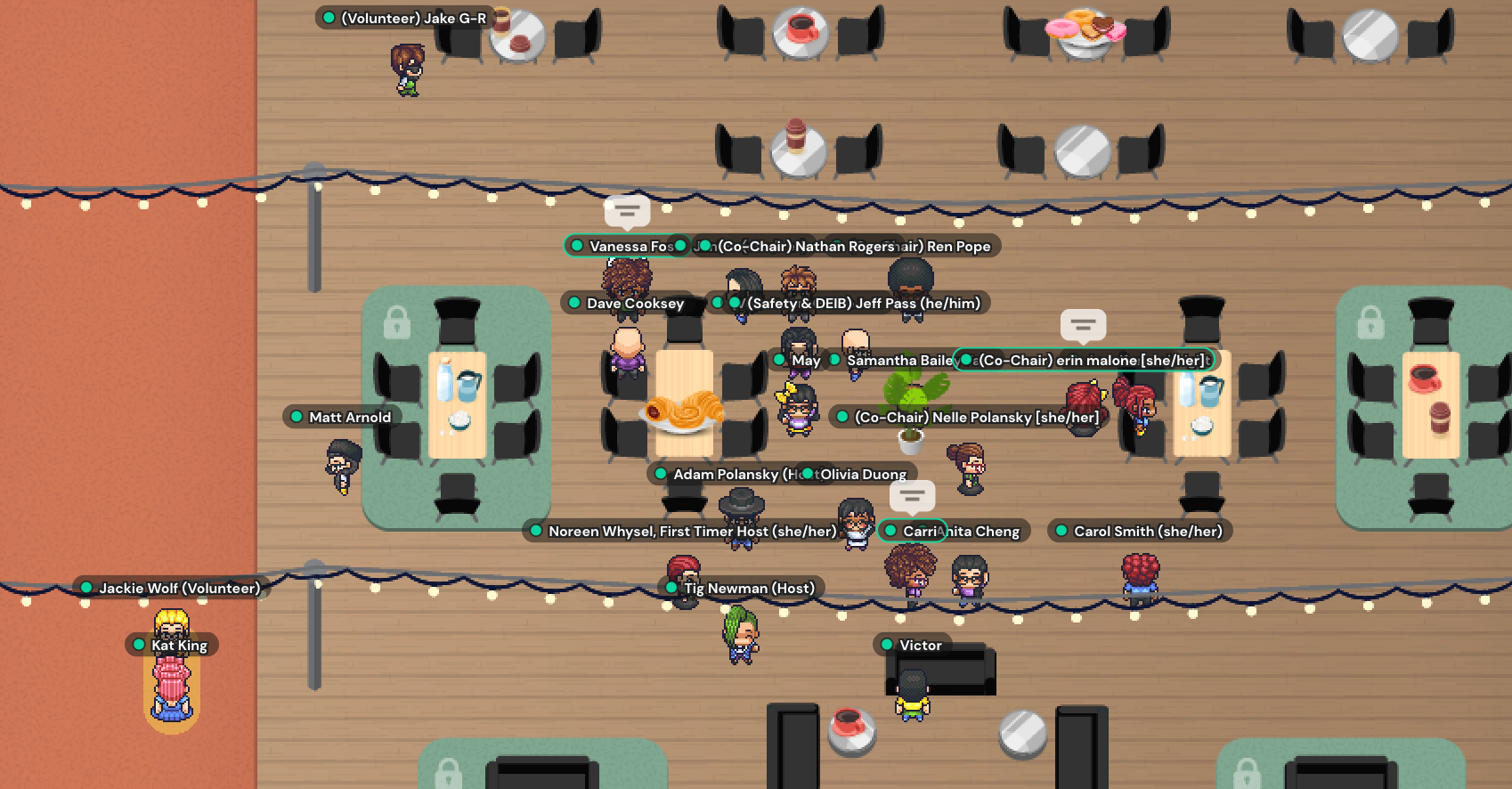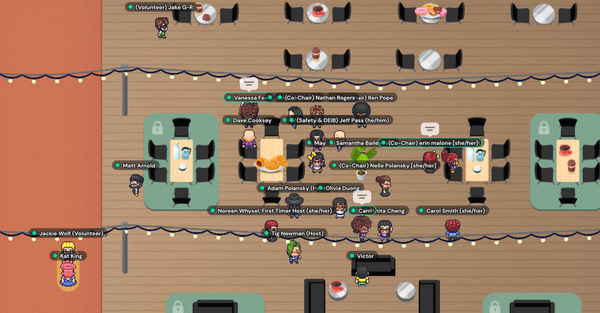 Last month, people from around the world gathered for a virtual IAC (The Information Architecture Conference).  The crowd consisted of long time IAC loyalists to newcomers who just learned what IA (information architecture) was.
DIA Design Guild and IAC have a long history thanks to DIA's own co-founder and IAC regular, Grace Lau.  Grace attended IAC as a young professional (back when it was still the IA Summit), volunteer, former co-chair, and speaker for the 2022 event.
Knowing how influential the IAC experience and community can be for someone just starting out, apprentices were encouraged to get involved.  Several DIA apprentices took the opportunity to volunteer and/or attend the conference.
Two DIA apprentices, Justin Kim and May Ng, experienced their very first IAC this year and gave their hot-take on what it was like being a first-timer at an established tradition and community.
What was your knowledge of IAC before attending the conference?
Justin: I only knew that the conference exists and that DIA helped out with organizing and working on the website.
May:  I'm working with Grace at DIA to plan and implement a fairly large project with IAC, so I had an insider's view without having actually attended a conference before.  Knowing Grace and working on the project has given me some advantages on networking, understanding the history of this event, and knowing what to expect that first-timers without connections wouldn't have.
How would you describe the vibe of the conference and community?
Justin:  I noticed a lot of enthusiasm when discussing topics. This was most apparent from all the post-talk meetings.
I know we're professionals in tech and all, but I loved how playful folks were. I MC'd for the Go-Kart Race Tournament and we had a grand ol' time watching a bunch of people make a mad dash to the finish line.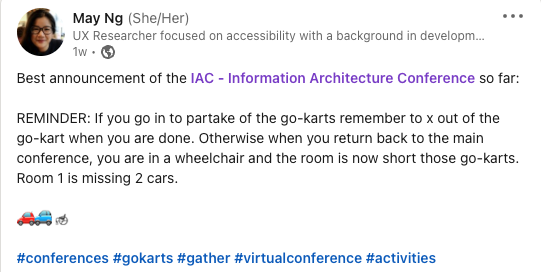 May:  It's clear that there is a tight-knit crew among the organizers and other regular attendees of IAC.  At times, it felt like I was encroaching on a family reunion, but everyone was very warm and welcoming to me.
I also met a lot of people who were attending for the first time, too, so it definitely wasn't just regulars. The activities like the first-timer meet up and poster night were really big in feeling connected to the community.  I even met a lot of people who I learned were from the same city as me!
Was there anything different than what you were expecting?
Justin: When you're vigilant running around as a stage manager and looking out for people who may need help and listening closely to talks you attend... It can get a little fatiguing. 😅
The diversity in content, particularly for poster night, was really surprising for me. I didn't think that I'd encounter stuff like Chris Rackley's amazing stock/flow chart for adaptive content and Karen Lin's awesome experimental model on how we justify systematic abuse to ourselves.
As Tech Support, I noticed there were a lot less participants who had issues with the platform than expected. And I didn't realize there was a company that made custom graphics specifically to turn an online virtual space into an immersive conference experience.
It was also heartwarming to hear emotional content like Dana Chisnell's experience evacuating refugees as part of her work in government. I know a lot of UX work isn't as directly impactful as Dana's story, but hearing her share how great it felt to be helping fellow human beings reminded me that it's just as important to understand how we feel about our work as much as we think about it.
May:  I was pleasantly surprised at how much direct face-time you could get with presenters and people at different levels in their career. It was really cool (especially as a newbie) to have such candid discussions with people who I view as well established in the field. Other conventions I've attended had much more of a celebrity + audience dynamic, where attendees are there to absorb information without opportunities to interact directly.
It was also great to see how much mental health and humanity were worked into many of the talks.  People were openly vulnerable about their experiences, struggles, and in giving support.  These things really make it feel like community and not just a conference.
Did you have any other observations?
Justin: The whole thing was way more streamlined than I thought it'd be. Bear in mind, I went into this after my time as a lead organizer for WIAD LA 22 so seeing organization at a larger scale was impressive.
May:  Because this year's event was hosted on Gather and included a Discord, I think attendees needed a fairly high level of technical expertise and commitment to going.
Having to make accounts for the IAC site, Discord, and Gather, and knowing how to balance everything was much more than I'd be willing to handle if I didn't have personal connections to this conference.
There were also some logistical issues with speakers and the registration process that negatively impacted my experience as an attendee.  However, knowing that this is a conference run by volunteers that change year-to-year, I have empathy for these kind of things.
My experience and point of view are definitely impacted by my unique position of having a relationship with DIA and IAC prior to the event.
What advice would you give to others newbies to IAC?
Justin:  Whether the experience is virtual or physical, make sure to set aside time to explore the space. You'll feel a lot more comfortable navigating everything going on. At some point, it'll all feel like home. 🏠
And definitely take advantage of networking!
May:  For sessions, I definitely recommend taking notes during the talks and workshops so that you can get the most out of them.  This will help you remember the content you heard and also any questions you may want to ask! The conference was great at giving people the chance to ask questions or connect with speakers after the talk.
For poster night, it's a cool way to present a project and discuss it with others.  I worked with a group at DIA to present a poster this year.  However, if you are a first-timer without a mentor/regular attendee to represent your poster, I'd suggest not presenting a poster of your own until at least your second IAC.
One of my favorite experiences was being able to check out what kind of research people were doing and presenting on and it was a HUGE networking opportunity!  I don't think I would have gotten as much out of it if I was stuck at my own poster the entire time.  I'm very grateful to Grace for allowing all of the newcomers to explore while she spoke to the work we did as a group.
(To Justin) As stage manager, what unique experiences and take-aways did you have?
Justin:  As stage manager and tech support, the role was very tactical and I mostly tackled issues as they came.  There were times we couldn't always find someone when they were needed for a variety of reasons.
Overall, the experience was more tiring that I thought it would be.  I was given leave when things were slow, so I could do a lot of different things such as helping people, listening to the speakers, networking, and handling last-minute requests.
Any closing thoughts?
Justin: I want to return next year! Seeing all the passion and camaraderie makes me want to get involved again.
May: It was really nice to see the other side of IAC.  As someone working with DIA to support some of IAC's projects, I've only seen the behind the scenes which can get pretty hectic.  Having lived the live experience is a good perspective to have.  I have a much better understanding of how it is to embody the feelings of why it's so important to those that uphold this community.
Written by May Ng and Justin Kim. Reviewed by Grace Lau.