Last year when we selected apprentices, Grace screened the applications and did all the interviews. This year, with more mentors onboard and a will to strive for a slower-paced, happy work balance, the process we went through to select apprentices changed a bit, starting with the tools we used and the journey we took to get to Round 1 and the Final Round. Let's talk about how we got to the final 10.
[Good design] is also about the systems we design to help us make the decisions we need to make.
What is good design? Let's talk about the design and ethics of the selection process. Yes, this is another meandering post talking about the design of such behind-the-scenes workflows we have at DIA. Did you think that this article is about inclusion, accountability, and transparency? Well, it is, and it is also about the systems we design to help us make the decisions we need to make. Like all things in life, even this needs to be thought about with intention.
How many applications did we receive?
Stats first. We started the application form in 2021 and it focuses on 2 main questions:
Tell us about your UX journey
Why is this apprentice program for you?
After the application period for the 2022 cohort ended, the form was opened again around May as a way to measure interest. Even though all the slots were filled, the form was still available for anyone who came across and still wanted to apply. We received 40 applications between May 1st and December 15.
In mid-December, we announced with great fanfare that DIA is accepting applications again. The deadline was set for January 12. We set planned dates for workshops. We made changes to what the program was focused on. People who applied before this announcement were asked to re-confirm their interest in the light of these changes or re-apply with updated information, if they wished. Filtering out those who re-submitted and those who were no longer interested, we ended up reviewing only 22 applications from this early batch.
Meanwhile, we were very soon overwhelmed with applications coming in and made the executive decision to close the application period at the end of the year (December 31).
75 total applications received
60 total unique applications to be considered for 2023 since May 1, 2022. Again, this did not include duplicate applications, no-responses to reconfirm their interest, or withdrawals.
What went into reviewing the applications?
As mentioned before, only one person reviewed and screened the applications in 2021 and 2022. This year, at least 5 mentors were involved in the review process. It was not up to one person to decide who was interviewed and accepted. It was imperative that we needed to outline what this meant and how these votes impacted the mentors and affected the applications that rose to the top of the list..
We read every single application.
Understanding a bit about how they got to UX in the first place was interesting. We found that many discovered UX during the pandemic, as expected. Lots of career-switchers or transitioners. A fair amount of recent graduates and current students. The experience level range continued to be as wide as last year's applicants: at most 20 years span of experience.
We used an emoji voting system, using Coda to pull in the apprentice applications from Tally Forms. We created a layout that enables reviewers to give feedback quickly, creating an inclusive environment for them to give their sentiment and give feedback that others can respond to. Mentors reviewed each application and gave a simple up or down vote.
We know who upvoted
Applications are equally important
The important questions show up in long comment threads, clearly enumerated on the side.
The voting system allowed us to see which applications float to the top
Working from UTC-7 to UTC+2, this system allowed us to work asynchronously and quickly. We appreciate that Coda provided credit for startups!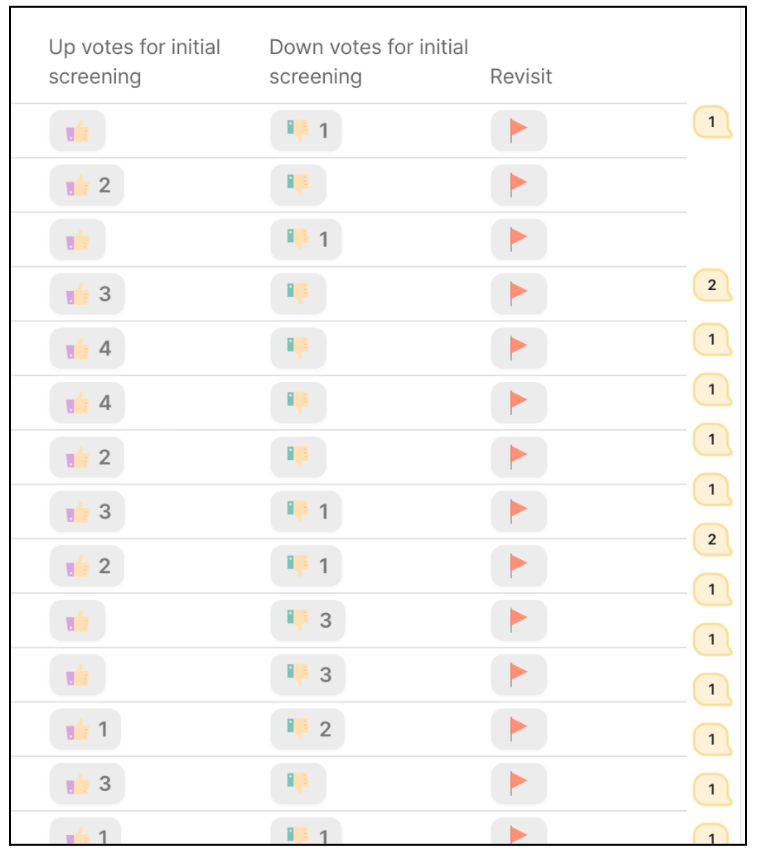 We looked for passion in the right places:
Were they resourceful?
What kind of background are they bringing with them?
What were they looking for or expecting to get out of the apprenticeship?
Based on their responses, might we be a good fit for them?
Would we be able to support them in their journey?
We learned more about ourselves as we reviewed the applications. We asked ourselves, who might really do well with DIA? As mentors, what do we really want to do? Debbie says, "I really want to raise up someone who is passionate."
This also meant that any mentor could downvote an application. In the end, those applicants who had at least 4 votes were contacted for an interview.
How did we approach the interview?
Three of our mentors had the availability to conduct the interviews. The interview process was also a bit like a research interview. We weren't testing for correct answers. We were looking for critical thinking, passion, and resourcefulness. Questions were scenario-based so that we could learn about their way of thinking. It wasn't for applicants to show off their portfolio since we didn't expect them to have a portfolio. We wanted to learn about them, what brought them to UX, and what drives their enthusiasm for the field.
Out of the 60 applicants, 20 received at least 4 upvotes. Interviews were recorded to help the mentors with their notes.
We realized that it was really hard to say no. There were those who were overqualified. They were the resourceful ones who had sought out apprenticeship and fellowship opportunities. They were articulate and well-spoken. They were likely to succeed even without DIA's help, but they applied. There were also those who were clearly lost but had the passion and the drive. While money is a motivator for many people in general, they understood that UX isn't a guaranteed ticket.
From the interviews, there were definitely those who made it based on how we thought we'd be able to help them. And then the rest was left to fate. We took a leap of faith with the 10 invited for this year, just as we took a chance with 10 last year.
Final thoughts
We all get rejected from a position we really want at some point in our UX journeys. To the applicants who made the cut: Congratulations! And to those who couldn't get in for the 2023 cohort: We earnestly looked into each person's application and asked ourselves if DIA and each one of you were a good fit at this point in time. We hope you find another opportunity soon!
Thanks for reading!